The cover for Heir to the Sky was released today! Here it is: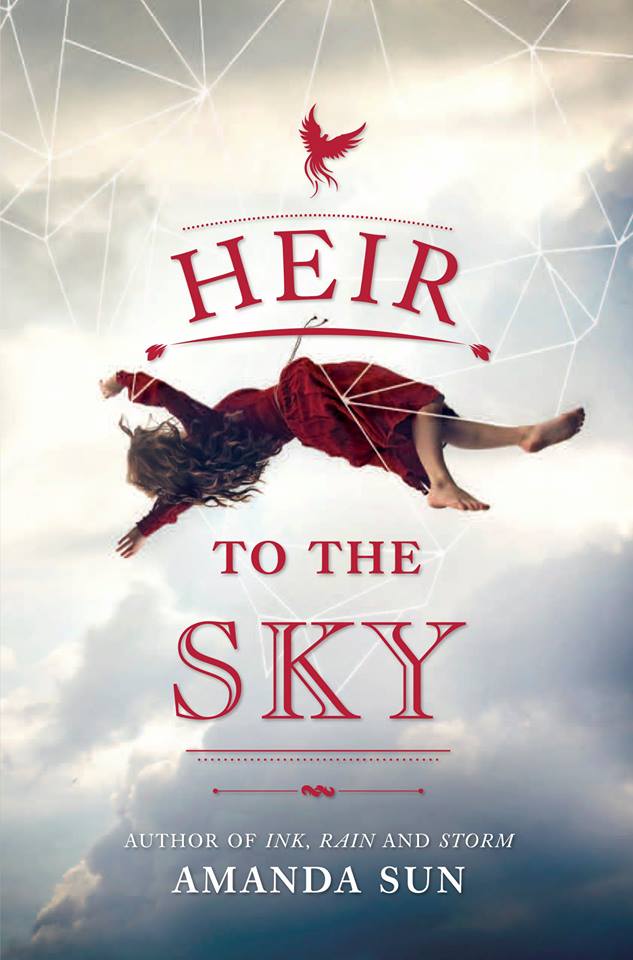 What do you think of this cover? Personally, I prefer the covers for the Paper Gods trilogy more, but this one isn't too bad :P
Anyway, the book comes out on April 26th of 2016, so be sure to go and buy the book on the release day or pre-order it now!
Links to places where you can pre-order the book are here:
Amazon: http://www.amazon.com/gp/product/0373211910/ref=x_gr_w_bb?ie=UTF8&tag=x_gr_w_bb-20&linkCode=as2&camp=1789&creative=9325&creativeASIN=0373211910&SubscriptionId=1MGPYB6YW3HWK55XCGG2
B&N: http://www.barnesandnoble.com/w/heir-to-the-sky-amanda-sun/1122539768?ean=9780373211913&cm_mmc=AFFILIATES-_-Linkshare-_-GwEz7vxblVU-_-10:1
Indigo: https://www.chapters.indigo.ca/en-ca/books/heir-to-the-sky/9781459293939-item.html?ikwid=Heir+to+the+Sky&ikwsec=Home&ikwidx=0
And just for good measure (pun not intended), the GoodReads page: https://www.goodreads.com/book/show/25502639-heir-to-the-sky
Have a nice day! Bloody18 -- Hikikomori 20:25, October 30, 2015 (UTC)
EDIT:
Here is the synopsis (also from GoodReads):
     As heir to a kingdom of floating continents, Kali has spent her life bound by limits—by her duties as a member of the royal family; by a forced betrothal to the son of a nobleman; and by the edge of the only world she's ever known—a small island hovering above a monster-ridden earth, long since uninhabited by humans. She is the Eternal Flame of Hope for what's left of mankind, the wick and the wax burning in service for her people, and for their revered Phoenix, whose magic keeps them aloft.
   When Kali falls off the edge of her kingdom and miraculously survives, she is shocked to discover there are still humans on the earth. Determined to get home, Kali entrusts a rugged monster-hunter named Griffin to guide her across a world overrun by chimera, storm dragons, basilisks, and other terrifying beasts. But the more time she spends on earth, the more dark truths she begins to uncover about her home in the sky, and the more resolute she is to start burning for herself.
Sorry for not providing this earlier!
Bloody18 -- Hikikomori 20:28, October 30, 2015 (UTC)
Ad blocker interference detected!
Wikia is a free-to-use site that makes money from advertising. We have a modified experience for viewers using ad blockers

Wikia is not accessible if you've made further modifications. Remove the custom ad blocker rule(s) and the page will load as expected.